With the steady decline in Tablet market, the relevancy of tablet is continuously questionable. But with the release of Yoga Tab 3 by the Chinese manufacturer company Lenovo, revoke the tablet world once again. Lenovo Yoga Tab 3 is far from like any other Android tablet.
The Lenovo Yoga Tab 3 is one of the most unique tablets you can buy under $200. It does not only amaze with its refreshing design emanating the balance between innovation and functionality, but also has two of the outstanding features a tablet can possess effectively: powerful speakers and a sharp camera – a camera that can also rotate 180 degrees. Flaunting in its traditional slim design, the rectangular-shaped tablet has the aluminum clad edge providing it the ease in hand-held capability. The 8-inch tablet has a pair of front-facing speakers, using Dolby Atmos technology making the sound experience more crisp and clear. Another exciting feature is the 8-megapixel sharp rotating camera which can be rotated at 180 degrees to work as a front and rear camera.
With the astonishing features like crystal-clear speakers, sharp rotatable camera and uniquely comfortable design makes it outstands the bundle of the tablets present these days. Given below is the detailed explanation of the specifications.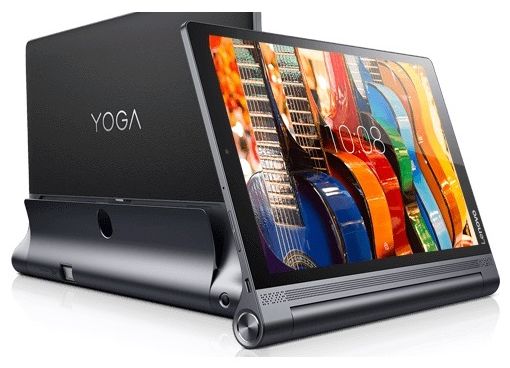 Design and Hardware
The tablet has a chunky rounded spine made through out of aluminum giving it a smooth feel at the bottom. The spine consists of power button, with the Micro-USB port and volume rocker above and on the opposite is the headphone jack. It also provides the space to the front-facing speakers and camera.
The back panel of tablet has a finely textured matte finish providing an easy to hold grip. The tablet also uses a kickstand which can be flipped to 90 degrees or to about 160 degrees. Thanks to its sturdy construction, it feels solid when propped up or laid down.
The Lenovo Yoga Tab 3 adds on with a 1.3GHz quad-core Qualcomm APQ8009 processor, Adreno 304 GPU, 16GB of internal storage and 1GB of RAM. It also uses a microSD card slot which helps in expanding the memory up to 128GB. It also houses Bluetooth 4.0 and 802.11 b/g/n Wi-Fi.
Display and Camera
The Tablet's 8-inch, 1280 x 800-pixel screen is considerably bright enhanching the viewing experience. In bright light, the 8-MP camera did a fine job grabbing a well-exposed shot but in dim lit scenes, the camera tends toward underexposure. Overall, the camera quality looks simply great with fine sharpness and brightness.
Operating System
The Yoga Tab 3 runs on Android 5.1, and although Lenovo says it's working on providing an update to the recently released Android 6.0 Marshmallow, there's no specific timetable for when that new OS will provide it with the update.
In contrast to its fantastic creative design, the Lenovo Tab Yoga 3's software features are not that much interesting. It runs a mostly pure version of Android 5.1.1 and comes with some preloaded software. The Lenovo Yoga Tab 3 is loaded with Google Suite contained of Google apps, like Gmail, Maps, YouTube and Drive, Lenovo also packed with the Yoga Tab 3 with SyncIt HD, ShareIt and McAfee Security.
Battery Life
The tablet possesses an epic battery life that lasts long for 15 hours and 9 minutes. That makes most tablets' power packs look outright diddly.Bottom of Form
The tablet loses 9-14% of its charge per hour with video streaming from services.
Final Verdict
The Yoga Tab 3 stands above similarly priced 8-inch tablets with its most amazed 15-hour-plus battery life. The kickstand is a perfect add on in Yoga Tab 3. The amazing sound effects of Tab 3 by its front-facing speakers greatly help while watching your favorite shows. Its amazing design and build quality gives the user a premium feel while providing it a smooth grip at the same time. The camera quality which is almost lacked in every other tablet is amazing in this tablet.
For a budget price of $170, the Yoga Tab 3's superlative battery life gives it the juice to stay up and keep running longer than you can, making it a solid choice for media junkies on the go. The only issue related with the tablet is the problem in updating the software which is usually assured by the company to provide it later. If you have a lower budget, you can check out the Best Tablets under 100 Dollars. You can find more articles from TechCompact here.
Unlike other tablets with high specifications and features, the Lenovo Yoga Tab 3 is not that much thin or light-weighted, and also lacks at offering any cutting-edge experience. Instead, for everyday uses, like surfing the Web and lurking social networks, it will get the job done incredibly right. If you are also into watching a lot of video or big on taking photos, you will not able to find another tablet in such an affordable price that offers a design especially made to comfortably accommodate those two activities.