Apple Photos is the default photo application that comes with all Apple products. It's a nice way to store your photos in the cloud and sync between all your devices. It's reliable, simple, and has just enough editing ability to fill most regular people's needs. If you aren't a graphic designer or professional photographer, then take a good hard look at this one. It does most of what non-graphics professionals need.
Affinity Photo if Apple Photos won't cut it for you, then this is the "Big One" for the iPad. Dedicated retouching tools, non-destructive adjustments, super-accurate selections, liquefying effects, real time effects, realistic brushes, advanced layer support, works with RAW and EXIF data, tone mapping, 360-degree images, focus merging, and a lot more. It's the most "Pro" app available right now.
Lightroom and Photoshop from Adobe are the kings of photography in the computer world, but their offerings are somewhat limited on the iPad. Although these two apps are available (as part of their subscription service) they are scaled down and feature limited compared to their desktop versions.
If you're already buying the Adobe service, then by all means give these a try, but do your research about specific needs if you plan to rely on the Adobe offerings. If you aren't locked into the Adobe ecosystem already, I'd recommend looking at similar, nonsubscription apps first.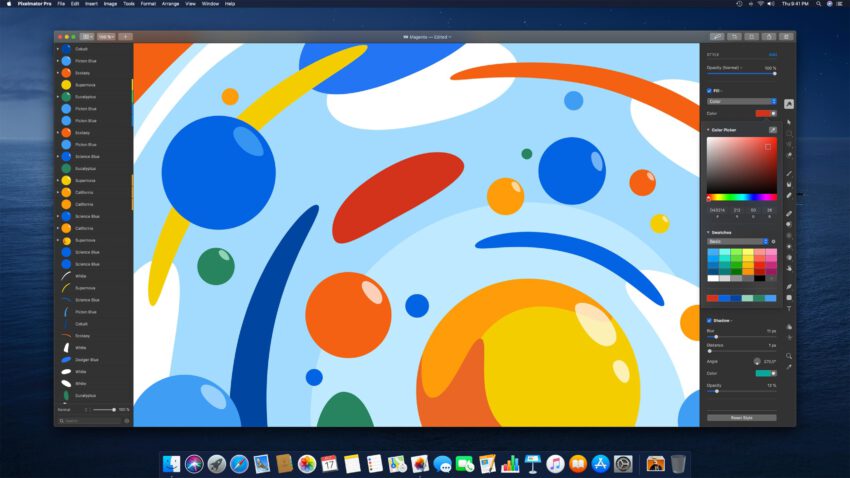 Pixelmator is another app that works brilliantly for basic photo manipulation and touch-ups. I use this one to design the covers for my blog. It handles layers, text, graphics, photos, and most everything else I've needed. I am not a graphic designer, so it must be relatively easy to learn. If you want "something like Photoshop" but don't want to subscribe to the Adobe service, this is where you should start looking.
Pixelmator and the book cover 
Others There are hundreds of fun, and often free, photo manipulation tools out there. They can automatically fine-tune your colors, add filters, do silly special effects, create collages, do face-swaps, and all kinds of other neat things. Many of these apps are designed for the iPhone, but keep in mind that you can load iPhoneonly apps onto your iPad as well.
Google Photos If you use an Android phone instead of an iPhone, this is probably a must-have. Essentially this is Google's version of Apple Photos. It uploads and syncs your photos with basic image editing features. It's free, so it's worth looking into. One thing that many people do is to install this app, and then set it up to upload all images from the Apple photo app to Google. This allows for what is essentially a free backup for all your photos.
ProCreate is just one of many "painting" apps out there that take advantage of the Apple Pencil. Most of the apps I've mentioned do allow for some drawing or painting features, but they are all mostly organized and designed around editing photographs. ProCreate and similar apps are meant for taking a blank canvas and creating art from scratch. Some use more of a painting metaphor, while others are more like a sketchpad or watercolor set.
There are dozens of these kinds of apps out there, and they all have strengths. If you're an artist, you'll want to try several, and probably pick a few that you switch back and forth with. My two favorites are ProCreate and ArtRage, although if you're an artist, you'll find dozens of apps that entice you. udio Editing
Twisted Wave is an audio editor. If you do any kind of audio editing, for audio books, radio shows, music, or podcast production, this is an awesome app to
check out. You can do noise reduction, cut-copy-paste, fade-in and fade-out, and lots of other effects and tools for making your voice sound good. Twisted Wave is about as close to the desktop computer software Audacity as you can currently find on the iPad.
GarageBand is an audio editor as well, but unlike Twisted Wave, this one is more focused on musicians. It has dozens of built-in instruments, midi sequencing, and includes smart instruments. It's a powerful app that does many things well up to a point. You may find that your needs are more than it can handle, but if you need quick (and free) tools for audio, look here first.
Ferrite is an app geared toward podcasters and those interested in creating and editing short spoken-word recordings. It has numerous sound-enhancing effects, allows for multi-track recording, and works well with longer audio files.
I regularly create and edit hour-long podcasts a hundred percent of the way through all the steps from recording to uploading a file with complete metadata and show notes, all from within Ferrite.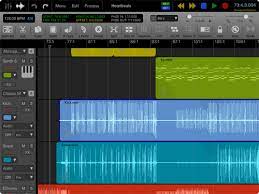 Auria is a full-fledged digital audio workstation for recording and arranging multi-track audio. It covers all the basesrecording, mixing, and post-production. It handles up to 24 tracks and supports a huge variety of plug-ins and enhancements. If you mix music, you have to take a look at Auria. Tip: For spoken word recording, go with ferrite. For recording live music, try Auria. Music, Games, and Entertainment
Games may be the single-largest category of apps for the iPad. Many, many people buy an iPad just for the gaming options. And the games are excellent. I'm partial to strategy games like
Dominations and Civilization VI on my pad. There's far too many options and choices to get into much detail here; iPad gaming could be an article unto itself. You know what kind of games you like, don't be afraid to install them all. Lots of them are free, and even those that aren't will often give you a taste before you buy the full version.
Tip: A new feature of iPadOS this year is the ability to connect an Xbox or PS/4 Dual-Shock controller to your iPad through Bluetooth. The game has to support the controller, but as time passes, more and more games should take advantage of this.
Music Apps are extremely popular on both the iPhone and iPad. With the enhanced speakers on the iPad Pro or the ease-of-use and quality of Apple's Airpods, the iPad is a wonderful audio platform. We looked at
Apple Music in the section on the Cloud, but that is only one of many popular music services available for the iPad: • Apple Music • Spotify • Amazon Prime Music
Pandora • Google Play • TuneIn All of these are great, and there's no reason you need to limit yourself to just one. TuneIn and Pandora have excellent free services, and if you are signed up for Amazon Prime, you have (limited) access to their music service free with that. The two big players here are Apple Music and Spotify, and both have good features and similar pricing; you'll want to take advantage of the free trial offered by each to compare and decide.
The Apple Podcast App is the simplest way to get started listening to podcasts. You can do an easy search for podcasts titles and episodes, easily subscribe, and it works with both audio and video podcasts. It doesn't offer the features of Overcast, but it's free and already included on your device. If you enjoy podcasts, I need to recommend two: Adapt, a show all about iPad, and AppStories, a mostly-Mac show that often discusses iPad topics.
Overcast is the premier app for listening to podcasts. It has an easy search function, good download and archival functions, the ability to download or stream shows, and a lot more features that Apple's podcast app doesn't offer. One of the most popular features of Overcast is the "smart speed mode."
This automatically detects blank spaces and longer-than-needed pauses between words and removes them. This can often take a one-hour podcast and drop it down to fifty minutes.
Nothing at all is lost, and you saved ten minutes. If that's not enough, there's also a feature that can play the podcast at whatever speed you want, from around ninety percent of the original speed to three-hundred percent. Listen to more stuff in less time. It is limited, however, to audio podcasts — It doesn't do videos.
Netflix is a video streaming service that is immensely popular, and an excellent value. If you already get Netflix through some other device, you should download the app and try it on your iPad.
Amazon Prime is another video streaming service. It's included with an
Amazon Prime subscription, so if you already have that, try the video streaming. The selection of shows isn't anywhere near what Netflix has, but they do have lots of good stuff and original content not available anywhere else.
Hulu is another video streaming service. They, too, have shown that the two previous services don't, so it's are worth a look too.
TV Networks HBO, History Channel, Discovery, NBC, ABC, CBS, PBS, BBC, Crackle, A&E, and most other networks have their own apps. Some require a subscription, some require you to have a specific cable package, and some offer a selection of free shows. If you have a favorite show or network, it's worthwhile to try their app and see what deal they offer.